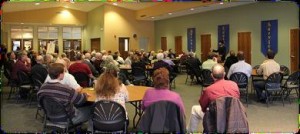 All people at Mount Olive are encouraged to continue to grow in their faith through study of Scripture, Lutheran theology, and the implications of what it means to live as God's people. We do this in a variety of ways:
Sunday Mornings
The Sunday Morning Forum takes place from 9:15-10:15 a.m. from September through May, usually in the Fellowship Hall. This intergenerational forum often focuses on our social ministry partners and other faith-based learning. During Lent it becomes a Scripture study led by the pastors. Grab a cup of coffee and join the group! Everyone is welcome.
Monday Pub Theology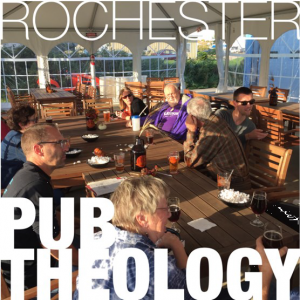 See what's trending! Come to the Hy-Vee Market Grille on 37th St. each Monday from 5:30 – 7:00 pm.
Conversation focuses on topics that connect faith, spirituality, and our world. Each week's discussion topic is posted ahead of time at the Rochester Pub Theology blog. Contact Pastor Paul for more information or to join the email distribution list.
FSU
The Faith Seeking Understanding book group reads and shares conversations about a variety of books and videos on theology, spirituality, social justice, and Christianity and our changing church. FSU meets on the first Tuesday of the month beginning in September at 6:30 pm. September and March feature video programs, which require no preparation, come and view with the group and share in the conversation. All are welcome. If you have any questions, please contact Kailea Mattheis. The selections for 2017-2018 are:
FSU Books 2017-2018
Date
Title
Author
September 5
Documentary Video-Bonhoeffer
Video Discussion
October 3
Freedom of a Christian, Discipleship(excerpt),
Radical Lutheran/Lutheran Radicals(excerpt)
Martin Luther, Dietrich Bonhoeffer,
Jason A. Man
November 7
Green Card Youth Voices: Immigration Stories from a Minneapolis High School
Varied
February 6
The Fourth Gospel: Tales of Jewish Mystic
John Shelby Spong
March 6
No Man Is An Island
Thomas Merton
April 3
Rising Strong
Brené Brown
Wednesday Evenings
Mount Olive offers Wednesday evening classes, activities, and a meal for all ages.
Men's Discipleship Group
The Men's Discipleship Group meets every Saturday morning from 8:30-9:30 am during the program year.
Women of the ELCA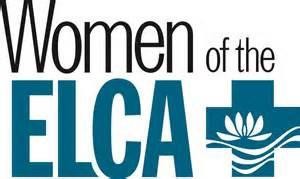 If you are a woman and a member of Mount Olive, you already belong to Women of the ELCA. This group focuses on fellowship, Bible study, and service. There are a number of small  groups that meet monthly at a variety of times for Bible study, discussion and spiritual care.  No sewing is involved. Meetings are a great time for fellowship and forming life-long friendships.  Spending time together in Bible study is a wonderful way to learn about the Bible in a comfortable setting. The groups also serve at Fellowship Events sponsored by the Women of the ELCA throughout the year.
Sacramental Mystagogy
The best way to learn about the Sacraments is to participate in them. We call this mystagogy: teaching through participation in the mystery of God's presence in, with, and under the Word, the Water, the Bread and the Wine. We have ongoing opportunities for you to learn about what it means to be invited into Baptism and Communion.
Baptism
Preparation for baptism begins with a conversation with a pastor. Please contact the Church Office at 507.288.1580 to schedule a thirty minute meeting with Pastor Glenn or Pastor Paul to learn, share, and prepare for this important congregational event.
Communion
People of all ages (including small children!) are welcome to join the whole church at the Communion table. An intergenerational session called Welcome to Communion: An Introduction to the Sacrament is available twice a year for those who want to learn more about the sacrament (October 19, 2016 and February 8, 2017). Both young and old are welcome.
Adult Opportunities: News and Events