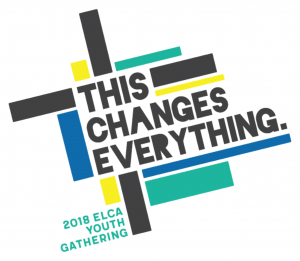 Youth Gathering Before Thoughts
Caleb says, "I am looking forward to helping people who may need a lot of help. I hope that we can help people who were affected by last year's hurricane.
Brody says, "I am looking forward to taking a road trip to a place I have never been before."
Samantha says, "I am looking forward to building relationships with new people and using teamwork to accomplish a big goal. I am also looking forward to learning how easy it is to help others.
Joey says, "I am looking forward to spending time in Houston and learning about the city."
Emily says, "I am looking forward to helping out with everything and making sure I can help make a positive impact in someone's life by helping them out when they need it."
Grace says, "I am looking forward to meeting and getting to know other youth church members from around the country. I hope to grow in faith by being emerged to so many new opinions and thoughts to open my mind to seeing/interpreting the word of God in ways I maybe had never thought of before.
Greta says, "I am looking forward to traveling and hanging out with my church friends. I hope to grow in faith by sharing experiences with other Lutherans and I hope to learn patience and independence from this trip."
June 25-July 1, 2018
Monday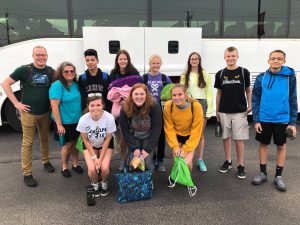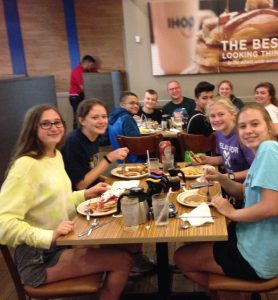 Everybody is excited to get going, look at those smiles! We left from Bethel Lutheran at about 7:00 am.  The buses stopped in Albert Lea to meet up with two more buses headed to Houston.  The next stop came in Bethany, Iowa for lunch break.  The next leg of the journey was a little long, our fearless bus driver drove us 5 straight hours to Muskogee, Oklahoma.  The buses arrived about 8:00 pm.  After we were unloaded and checked-in to our rooms, it was time for some supper. There was an IHOP across the street and that is where we dined.  It was back to the hotel and into our rooms by 10:30.  The buses will be leaving tomorrow morning about 9:00 am.  We still have about 7 1/2  hours to go. More to come tomorrow.
---
Tuesday
We have arrived in Houston! While it was a long bus ride, it was worth it. There were a few bumps in the road, including technical difficulties. Photos are not uploading right now, but we will keep trying. We went for dinner and had nightly devotions. We are headed to the Houston Aquarium tomorrow. We will attend our first Mass Gathering in the evening. We hope to get some photos uploaded later. Stay tuned.
---
Wednesday
We spent the morning at the Houston Aquarium. The kids all had a great time even though it was warm. In order to escape the heat, we headed to the tunnels under Houston, for lunch. We then made our way to the hotel to have some down time, do some bonding, and eat dinner before heading to the Mass Gathering. The Mass Gathering was a wonderful experience for everyone. There was a message from Bishop Eaton, some rocking music, and some very meaningful speakers. At the close of the day, we spent some time sharing about our day and praying about what we hoped to experience tomorrow at our Interactive Learning Day. We are still experiencing technical difficulties getting the photos uploaded.There will be plenty to share when we get back.
---
Thursday
We spent the day at the Interactive Learning Center. It was a time to explore all parts of faith and what it means to be a Lutheran and how we can be leaders. The most exciting part of the of the day came at the Mass Gathering when all of us took part in the program.
---
Friday
This was our Synod day. We spent the afternoon with the other kids from our synod. We played get-to-know you games, had a mini worship service with Bishop Delzer presiding. Before heading over to the Mass Gathering, we went to an authentic Mexican restaurant for lunch. The food was delicious and it was a chance for us to all sit and be present with one another.
---
Saturday
Today was our Service Learning day. We spent the morning at a church building that was in need of outdoor maintenance. Many bushes were trimmed, the lawn was mowed, and trash was picked up. The Mass Gathering featured another night filled with wonderful speakers and amazing music.
---
Sunday
As the Gathering came to a close, we headed to the stadium for a final worship service with 31,000 of our Lutheran friends. It was a very beautiful service. We were blessed to have Bishop Eaton deliver the sermon, and parts of the liturgy were presented in Spanish. We were also able to receive communion. At the closing of the Gathering we were informed that in 2021, the Gathering will be held in Minneapolis, MN. We then boarded the buses to begin our journey home.
---