By Erin Sinnwell
June 22, 2013
Rakes rattled in the backseat and the air smelled of freshly baked scones as we drove towards the Twin Cities. Rachel read the morning devotional and we each shared what we hoped for and were thinking about for the day ahead: humility, time away from kids, and getting back into doing service for others. We followed the car ahead with Randi driving Pastor Paul, Mark and Greg. Jason did a great job driving and me, the front seat navigator, only feel asleep once. 😉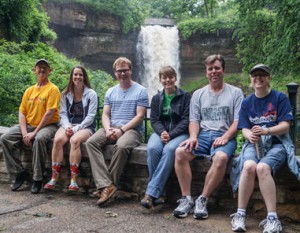 Our first stop was Open Arms meal delivery where meals were specially prepared and delivered for members of the community with diseases and health issues. We all took notice of the storm damage and the not- working stoplights, but no one thought to think that maybe Open Arms didn't have power…Just as we got into parking lot, Randi checked her voice mail, which was indeed from Open Arms telling us they had no power, and therefore no way to cook and prepare meals. We were disappointed that we would not be able to help, but decided to go to Minnehaha Falls Park that we had just passed a few miles back.
We began by walking along one of the paths to view the falls and take a couple group shots, and immediately saw a need we could meet, so we got to work! There were plenty of leaves, twigs and even large branches to be picked up around the park. We picked a central outdoor theatre and worked around it, cleaning as best we could. A woman dressed in a blue costumey-type dress approached me and asked who we were with and what we were doing. After I explained, she was very appreciative and said that tomorrow there was going to be a Scandinavian Festival with music and food and vendors and our labor was a great help to her.
Two different park crews stopped to thank us, too. Jason also found a large branch partly blocking a street, so five of us decided to take a stab at moving it. Inch by inch, we got it mostly up on the curb and out of the way. After a labor-intensive morning, we had a smorgasbord of foods to choose from for lunch. We ate there in the park and had great conversation. Topics included tattoos, pets, our children, running, composting and other things that helped us to get to know each other better as a group.
At 1 pm we moved onto a house owned by a wonderful older woman of 85. She showed us what she wanted done in her backyard: a few areas dug up to be able to plant flowers and herbs, lots of weeds pulled, and as much clean up as we could manage after the storms. We each set to work! Randi cleaned up the front yard in no time. Greg, Pastor Paul and I set to weeding. Jason, Rachel and Mark dug up areas for planting. We inquired about her having a lawn mower and she said there was one in the garage, but that it hadn't worked for 3 years. Mark offered to take a look at it and got it working and bought some fresh gas for it. Near the end of our work, a few of her relatives came to help with one large downed limb and brought a chainsaw that made things go much faster. She shared that she had planted that big backyard tree 52 years ago. Before leaving we planted a few veggie and flower seeds and then we were on our way to clean ourselves up before supper and serving a snack at the Greater Minneapolis Crisis Nursery.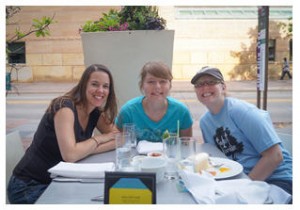 We cleaned up quickly at the local Target and walked around the Nicolette Mall area and found a great Mexican place to have supper. After a plethora of tacos, chips and desserts, we grabbed yogurt, fruit and granola for the snack and went over to the crises nursery. I have to say that the feel of the place was way different from what I thought it would be. The staff were very caring with the children and had a real hands-on approach with them. It was a great thing to see. Everyone had their part to play whether it was preparation and clean up, serving the snack or feeding and playing with the little ones.
At 8pm we hit the road to head back to Rochester. Rachel, Jason and I had a great nightly devotion and shared thoughts and reactions from the day. It turned out that we all really enjoyed the park cleanup, even though it was unplanned! 🙂 Knowing that we were helping to make things a little better for an event going on the next day made it ever better. I personally enjoyed working at the older woman's house. Not only did she appreciate our hard physical work, you can tell that she enjoyed talking with us, too. I realized that sometimes people just want to be listened to and know that their voice is important, even if just telling stories about their past. We don't need to share our own, but listen and let others know what they have to say is important. Sometimes we take our own families for granted…and maybe we are tired of hearing our uncles' stories for the 30th time, but people like to share their past with us and taking the time to listen can really let them know that we care.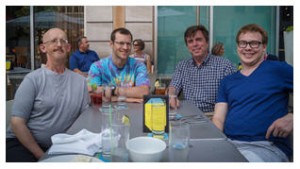 The same sort-of goes for the children. Us being interested in their names and how old they were was an instant ice-breaker and we had a great time playing with them, even if only for a short time.
In my book, the day was a huge success. I LOVE being able to be a help to people, while working God's will, while building bonds with other church members, while having a break from my wonderful children. Both Jason and I had a wonderful time and can't wait for the next service trip opportunity. We appreciate all the work that Randi did coordinating our day and for Mark for stepping in on short notice due to Kathy being hospitalized. (We thought of you throughout the day, Kathy, and wish you a speedy recovery!)
---
By Randi Beyerl
June 22, 2013
After cleaning up storm debris and having lunch at Minnehaha Park, we headed on to our next project with the Neighborhood Involvement Program—a non-profit organization that helps bring resources and services to the underserved. We were initially set-up to provide outdoor work at two homes, but upon calling Saturday morning one of the women stated that she didn't have power, her garden was more of a pool, and she insisted our services could be better used at someone else's home. So we headed over to the home of the other woman we were scheduled to help. We had been told we would be pulling weeds and digging a veggie patch, but when we arrived it was apparent that we could help in other ways as well. There were branches all over, a tree had toppled over in her back yard, and the lawn needing mowing. We all got to work.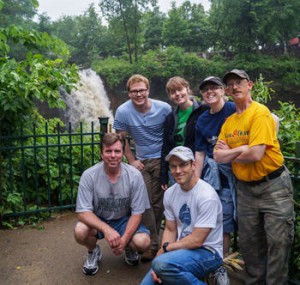 After we had a lot of the debris off the yard, Mark asked the woman if her lawn mower was working. She wasn't sure as it had been sitting in the garage for a couple years. After a few minutes of tinkering Mark had it up and running. The lawn mower needed gas and we were in need of string to bundle sticks for city pick-up, so Mark and I headed out to get the supplies. Mark got the gas, and I went searching for string at a local NAPA store. I went in and looked a bit but could not find any string. One of the men working checked the back of the store and could not find any either. He asked what we needed it for and I explained we were helping an elderly woman in the neighborhood with storm cleanup and need it to bundle sticks. Without hesitation he lead me out to his truck. He had some string that he used for tying things down and insisted that I take it. I thanked him profusely and was on my way.
That simple act of generosity left me with a humbled, grateful, hopeful feeling. It was a "God wink" kind of moment in a day of cancelled service projects and ever-changing plans. When Mark and I arrived back to the woman's house, I shared this story with the rest of the group. We all came to the conclusion that there is much more good in this world that we sometimes realize. God can use us all to bring hope and goodness into a broken world. Sometimes this means taking part in a service trip, and other times it means offering your last piece of string.