The Market as God – A Spring Book Study

According to Harvey Cox, Harvard scholar and author of the new book, The Market as God, "the Market has deified itself." This means that those who serve in this "business theology of supply and demand"   believe that the Market is all-knowing, all-powerful, and all-present. As a form of idolatry the Market has its own "doctrines, prophets, and evangelical zeal to convert the world to its way of life." For five Wednesdays at 6:30 pm, beginning April 18th, Pastor Glenn will lead a discussion of this important new book. Please sign up in the Gathering Area, where you can order a copy of the book. It is also available from Barnes and Noble in Apache Mall or Amazon in book or e-reader version.
An Evening to Celebrate Tanzania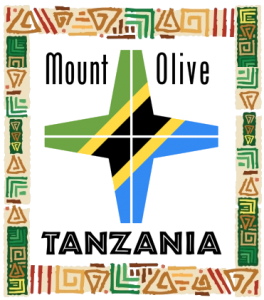 On Friday, April 27th at 6:30 pm, the Fellowship Hall of Mount Olive will be filled with the smells, sights, and sounds of Tanzania. That evening we will be hosting the bishop of the Central Diocese of the Evangelical Lutheran Church in Tanzania (ELCT), Alex Seif Mkumbo, on one of his few stops during his brief time in Minnesota this spring. Bishop Alex leads one of the fastest growing areas of Lutheranism in the world, of which we are a companion synod. He will inspire us that evening with stories of the mighty work God is doing in our companion synod.
In addition to the talk by Bishop Alex, and a delicious dinner of Tanzanian food prepared by our own Mount Olive members. We will also hear from the members of Mount Olive who will be traveling to Tanzania this fall. They will tell of their hopes to connect deeply with our siblings in Christ in the Central Diocese, to learn what their needs are for education and technology, and come home fully ready to establish a companion covenant with the Central Diocese of the ELCT, even as we have with the Lutheran Church in Colombia. Members and friends of Mount Olive of all ages are encouraged to join in this inspiring event. Tickets for the event are $25/person, and a free-will offering will be taken in order to reach our goal. Please be praying for safe travel for Bishop Alex and his wife as they come to the U.S. Pray also that God's spirit would move boldly to lead us to give generously so that this trip can be a wonderful next step in our long and fruitful relationship with our siblings in Christ in this far-off land.
Visitors Expected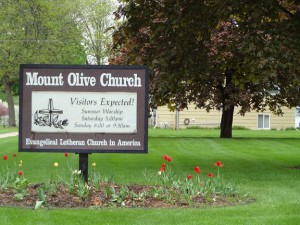 The sign outside of Mount Olive says, "Visitors Expected!" We mean this. We expect YOU, whether you are a new resident to Rochester, or you've been here for years, or you are just visiting. We have a completely accessible facility for physically-challenged folks. We are open and welcoming to people of all creeds, beliefs, ethnicities, and sexual orientations. We believe that God has called us to this ministry of hospitality and we welcome guests every weekend. Consider yourself invited.
We are also an unapologetically Lutheran community of faith. This means that our theology is centered in the life and death of Jesus Christ. This means that we are part of a long line of historic churches who celebrate infant baptism and weekly Holy Communion. This means that the Word of God is the norm and basis for our life together. We are also a part of one particular group of Lutherans – the Evangelical Lutheran Church in America, and through this group we are networked with thousands of other congregations, mission sites, social service agencies, and educational institutions that live out the faith of Jesus Christ in similar ways.
We would love to have you join us for worship on a weekend. Our communion table is open to all as God draws you. Please come and introduce yourself, stay for coffee and fellowship afterwards, and get to know us better. We believe Christ calls each person, of every age and situation, to some kind of ministry. We also believe that our lives are enriched when we do ministry together. YOU are welcome to explore YOUR calling in this community of God's people.