Mount Olive Women's Small Group Opportunities
All Mount Olive women are invited to consider joining a small group (known as "Circles") for Bible study, prayer and fellowship. There are six different groups, each named for a woman in the Bible, that meet at different times and places. Stop by the table in the front entry to learn more and sign up. One is sure to be the right fit for you!
Studies for 2018/2019 have been chosen and will be from Gather Magazine. A subscription to the magazine, which includes a variety of resources and articles for Christian women in addition to the study topics, is suggested. Go to the Gather Magazine website or call (844)409-0576 to start your subscription. For more information about Mount Olive's Women's groups, contact Renee Schaefer, Women of the ELCA president- (vettelady54601@yahoo.com).
The last women's summer study session is August 21 at 1:00 in the library—everyone is welcome!
Sunday School Registration
All families received their Sunday School Registration forms in the mail . Please return the completed forms as soon as possible to help with planning for class sizes. The forms are pre-filled, all that is needed is that you check the information and update the form if incorrect. Please return your completed forms to the basket on the Welcome Desk. If you did not receive a form, please take a blank form and fill it out. If you have any questions, please contact Kailea Mattheis by phone: (507)288-1580 ext. 207 or by email:kailea@molive.org.
Earth Sing! A special Concert Event at Mount Olive

Many may remember Richard Bruxvoort Colligan's music from our summer outdoor service on a chilly June day in 2017. Richard is the son of Mount Olive member, Eva Colligan, and the late Bob Colligan, and a Rochester native. Richard returns to Mount Olive with Austin native, Bret Hesla, on Wednesday, August 15 at 6:30 pm in the Sanctuary to inspire and entertain us as we sing together about God's desire that we take good care of our world and one another. The program will include stories, laughter, and lots of music that is fun and easy-to-sing for all ages. The entire Rochester community is invited, so come and bring a friend! A free-will offering will be taken and an ice cream social will follow in the Fellowship Hall.
Visitors Expected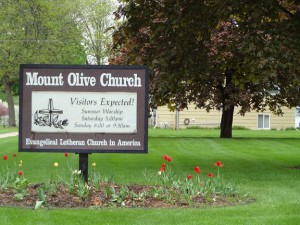 The sign outside of Mount Olive says, "Visitors Expected!" We mean this. We expect YOU, whether you are a new resident to Rochester, or you've been here for years, or you are just visiting. We have a completely accessible facility for physically-challenged folks. We are open and welcoming to people of all creeds, beliefs, ethnicities, and sexual orientations. We believe that God has called us to this ministry of hospitality and we welcome guests every weekend. Consider yourself invited.
We are also an unapologetically Lutheran community of faith. This means that our theology is centered in the life and death of Jesus Christ. This means that we are part of a long line of historic churches who celebrate infant baptism and weekly Holy Communion. This means that the Word of God is the norm and basis for our life together. We are also a part of one particular group of Lutherans – the Evangelical Lutheran Church in America, and through this group we are networked with thousands of other congregations, mission sites, social service agencies, and educational institutions that live out the faith of Jesus Christ in similar ways.
We would love to have you join us for worship on a weekend. Our communion table is open to all as God draws you. Please come and introduce yourself, stay for coffee and fellowship afterwards, and get to know us better. We believe Christ calls each person, of every age and situation, to some kind of ministry. We also believe that our lives are enriched when we do ministry together. YOU are welcome to explore YOUR calling in this community of God's people.