Special Meeting to Call Candidates
On Sunday, January 20 at 11:30 am, we will hold a Special Meeting of the Congregation to vote on extending a call to an Associate Pastor for Outreach, and an Associate Pastor for Children, Youth, and Family Ministries. Because this recommendation to call two pastors, not one, is a change from where we initially thought we were headed, significant time will be given in this meeting to explain how the congregational leadership came to embrace this new staff arrangement, and the hopes we have for this. All voting members are encouraged to attend.
Annual Meeting Next Sunday
Each year in January, our Mount Olive community gathers for a meal followed by our annual meeting. This is a time to reflect on the accomplishments and blessings of the previous year, and an opportunity to look forward to where God is calling us in the year ahead. In addition to the annual reports of ministry teams and staff, we will elect new officers to lead us in our mission and ministry. The Women of the ELCA will serve lunch following the 10:30 service on January 27, the meeting will begin shortly thereafter. Mark your calendars for this important gathering!
Holden Village Trip
A group from Mount Olive, led by Pastor Glenn and Ruth Monson, will embark on a trip to Holden Village, a Lutheran retreat center in Washington state. Inspiring scenery, music and worship, classes and lectures, and wonderful hiking all contribute to an outstanding experience for all ages. The trip will be June 10-15 (not including travel days). If you are interested, please sign up in the Gathering Area where you will find prices and more information and come to the planning meeting on Wednesday Jan. 23 at 7:30 pm where information regarding travel will be shared with the group. A final roster must be submitted by January 31.
Visitors Expected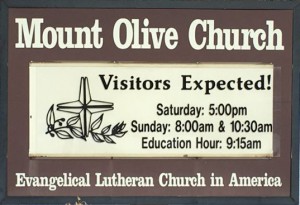 The sign outside of Mount Olive says, "Visitors Expected!" We mean this. We expect you, which means we are prepared to greet you and welcome you, no matter who you are. Our facility is completely accessible to all. Our welcome statement says it best:
We trust that God calls Mount Olive Lutheran Church to a ministry of reconciliation. We embrace as a gift the diversity of our neighborhood and the world, and we extend God's hospitality by welcoming, hearing, and treasuring:
All gender identities and sexual orientations
All races and ethnicities
All ages and abilities
All economic statuses and education levels
All faith journeys and personal histories
We are also an unapologetically Lutheran community of faith. This means:
Our theology is centered in the life and death of Jesus Christ.
We are part of a long line of historic churches which celebrate infant baptism and weekly Holy Communion.
The Word of God is the norm and basis for our life together.
We are also part of one particular group of Lutherans – the Evangelical Lutheran Church in America. Through this group we are networked with thousands of other congregations, mission sites, social service agencies, and educational institutions that live out the faith of Jesus Christ in similar ways.
We would love to have you join us for worship on a weekend. Our communion table is open to all as God draws you. Please come. If you like, you may even want to stay for coffee, introduce yourself, and strike up a conversation.
We believe Christ calls each person to some kind of ministry. We also believe that our lives are enriched when we do ministry together. You are welcome to explore your calling in this community of God's people.