Mission: Colombia
The Mission: Colombia team is en route to South America! Follow along and reflect with them as they travel at walking2getherblog.wordpress.com. The team will also present in worship after they get back. Look for more information to come.
Visitors Expected

The sign outside of Mount Olive says, "Visitors Expected!" We mean this. We expect YOU, whether you are a new resident to Rochester, or you've been here for years, or you are just visiting. We have a completely accessible facility for physically-challenged folks. We are open and welcoming to people of all creeds, beliefs, ethnicities, and sexual orientations. We believe that God has called us to this ministry of hospitality and we welcome guests every weekend. Consider yourself invited.
We are also an unapologetically Lutheran community of faith. This means that our theology is centered in the life and death of Jesus Christ. This means that we are part of a long line of historic churches who celebrate infant baptism and weekly Holy Communion. This means that the Word of God is the norm and basis for our life together. We are also a part of one particular group of Lutherans – the Evangelical Lutheran Church in America, and through this group we are networked with thousands of other congregations, mission sites, social service agencies, and educational institutions that live out the faith of Jesus Christ in similar ways.
We would love to have you join us for worship on a weekend. Our communion table is open to all as God draws you. Please come and introduce yourself, stay for coffee and fellowship afterwards, and get to know us better. We believe Christ calls each person, of every age and situation, to some kind of ministry. We also believe that our lives are enriched when we do ministry together. YOU are welcome to explore YOUR calling in this community of God's people.
Photo retakes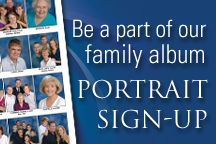 Since photos were taken last fall for our Community Book photo directory, Mount Olive has had new members join and babies born, and other families who were unavailable for pictures in the fall are now available. We have scheduled another photo session for May 2nd and 3rd!  Please click on the image to the left to sign up.  You may also contact Nancy in the church office to be added to the list.  288-1580  ext. 202
Every family pictured receives a complimentary 8 x 10 photo as well as a new congregational directory.  Please sign up today!