Saint Lucia Sunday Celebrated December 10
On Sunday, December 10, we will celebrate the Festival of Saint Lucia. This popular tradition, celebrated as part of Mount Olive's Swedish heritage, is rooted in an ancient story. Officially celebrated on December 13 during the darkest days of Advent, Saint Lucia is a symbol of the Light that Christ brings to the world. A legend tells that Saint Lucia came to Sweden during the great famine. She appeared in a halo of light on a ship sailing across Lake Vanern bringing food for the starving people. The custom in Sweden on Saint Lucia Day is for the oldest daughter in a family to be up long before daybreak to serve coffee and lussekatter buns. She wears a long white dress with a red sash, and on top of her head is a wreath with lighted candles. Naomi, Rachel, and Anna Circles are busy preparing for the procession of Saint Lucia and her star boys which will take place during each worship service. After the services, come to the Fellowship Hall for coffee and lussekatter buns and a mint served by the mint girls.
Advent Midweek Services
Please join us for a brief  meditative midweek service during Advent. We will gather each Wednesday at 6:30 pm for a time of prayer, reflection, and song. Our themes are:
December 13 – "Heal Us"
December 20 – "Send Us"
You are invited to come to one or all of these services, and bask in some quiet space amidst all the holiday hubbub. Advent is a quiet season. It comes to us during the darkest days of the year. We pray it will be for you a time when you know that God hears, heals, and sends you into the world with God's love. Come to one, or come to all.
Resources for Advent study and children's Advent Calendars are available in the entry at church.
Children's Moments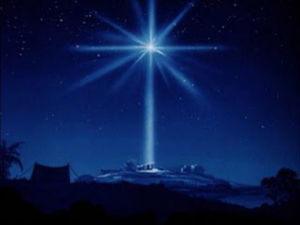 During the Children's Moment each Sunday of Advent and continuing to Epiphany, children will follow the path to the star of Christmas by placing characters from the Bible story on a banner as they hear the story. Bring your little ones to engage in worship with this activity.
The banner, an old favorite created by Gloria Rosencrants, is reappearing after some needed repairs.

Monthly Service Opportunities
Regularly scheduled opportunities that Mount Olive members participate in include:
Serving Meals at the Dorothy Day Hospitality House                                           1st Friday of the month
Construction on the current Habitat for Humanity Project                                    2nd Saturday of the month
Distributing food for Community Food Response (CFR)                                      3rd Monday afternoon of the month
See the sign up schedules for the above ministries on the Gathering Area cabinet.
Visitors Expected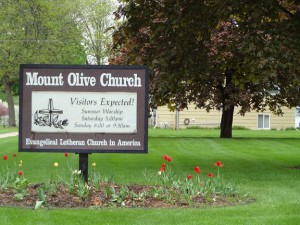 The sign outside of Mount Olive says, "Visitors Expected!" We mean this. We expect YOU, whether you are a new resident to Rochester, or you've been here for years, or you are just visiting. We have a completely accessible facility for physically-challenged folks. We are open and welcoming to people of all creeds, beliefs, ethnicities, and sexual orientations. We believe that God has called us to this ministry of hospitality and we welcome guests every weekend. Consider yourself invited.
We are also an unapologetically Lutheran community of faith. This means that our theology is centered in the life and death of Jesus Christ. This means that we are part of a long line of historic churches who celebrate infant baptism and weekly Holy Communion. This means that the Word of God is the norm and basis for our life together. We are also a part of one particular group of Lutherans – the Evangelical Lutheran Church in America, and through this group we are networked with thousands of other congregations, mission sites, social service agencies, and educational institutions that live out the faith of Jesus Christ in similar ways.
We would love to have you join us for worship on a weekend. Our communion table is open to all as God draws you. Please come and introduce yourself, stay for coffee and fellowship afterwards, and get to know us better. We believe Christ calls each person, of every age and situation, to some kind of ministry. We also believe that our lives are enriched when we do ministry together. YOU are welcome to explore YOUR calling in this community of God's people.