Middle School Skating on December 15
Kailea would like to invite all 6-8th grade students to join her at the Rochester Recreation Center on Saturday, December 15th to go ice skating during their open skate time. Drop your student off at the Rec Center entryway at 11:20 am to meet Kailea. The cost is $4.00 to skate and $2.00 to rent skates. Please sign up in the Gathering Area.
Children's Christmas Program on December 16
Please join Mount Olive's children and youth on December 16th as they tell the story of Christmas with a modern twist in The Hope of Christmas. The performance will take place beginning at 9:15 am in the Sanctuary. This year, our Christmas Program was written by Mount Olive's own, Jessi Hafeman, and directed by Dawn Farr. The children and youth have been working extremely hard, so please come to enjoy a new telling of the Christmas story.
Youth Bake Sale on December 16
On Sunday, December 16, the youth will have a bake sale to raise funds for their summer trips following both services and the Christmas program. As you are doing your holiday baking, please consider contributing to the bake sale as well. This year, the sale isn't limited to cookies, but will include other holiday favorites and food related gift items as well. Suggested ideas could include: Christmassy bars, Mini-loaves of bread, Chex Mix or "puppy chow", lefse, rosettes, homemade candy or fudge, cupcakes, small candy cane crafts, even dog treats! Please bring your homemade items, packaged for sale (ziploc bags or quantities of 6 or 12 usually work well) to the church kitchen by noon on Saturday, December 15. Please sign up in the Gathering Area where you will find more details about packaging and drop off. Please contact Kailea Mattheis-kailea@molive.org with questions. Thank you for your support!
Christmas Caroling on December 16

A great tradition at Mount Olive is our annual caroling outing to local senior care facilities just prior to Christmas. Those who carol, those who sing along, and those who listen are all blessed. Plan now to join people of all ages as we gather to carol on Sunday, December 16. We will meet at the Mount Olive parking lot at 1:30 pm to carpool to facilities that are home to some of our members. After caroling, we will go back to Mount Olive to enjoy some Christmas treats and hot chocolate. Please bring a treat to share. Sign up in the Gathering Area.
Visitors Expected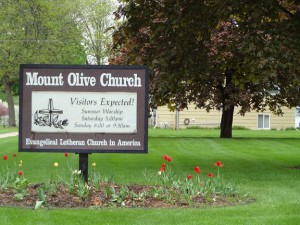 The sign outside of Mount Olive says, "Visitors Expected!" We mean this. We expect you, which means we are prepared to greet you and welcome you, no matter who you are. Our facility is completely accessible to all. Our welcome statement says it best:
We trust that God call Mount Olive Lutheran Church to a ministry of reconciliation. We embrace as a gift the diversity of our neighborhood and the world, and we extend God's hospitality by welcoming, hearing, and treasuring:
All gender identities and sexual orientations
All races and ethnicities
All ages and abilities
All economic statuses and education levels
All faith journeys and personal histories
We are also an unapologetically Lutheran community of faith. This means:
Our theology is centered in the life and death of Jesus Christ.
We are part of a long line of historic churches which celebrate infant baptism and weekly Holy Communion.
The Word of God is the norm and basis for our life together.
We are also part of one particular group of Lutherans – the Evangelical Lutheran Church in America. Through this group we are networked with thousands of other congregations, mission sites, social service agencies, and educational institutions that live out the faith of Jesus Christ in similar ways.
We would love to have you join us for worship on a weekend. Our communion table is open to all as God draws you. Please come. If you like, you may even want to stay for coffee, introduce yourself, and strike up a conversation.
We believe Christ call each person to some kind of ministry. We also believe that our lives are enriched when we do ministry together. Your are welcome to explore your calling in this community of God's people.