Spring Clean-up this Saturday
We will be raking, trimming, and generally cleaning up the grounds of the church, getting everything ready for summer. Please bring you rakes, shovels, gardening tools, friends and family and come to help out! All ages are welcome. Many hands make light work. Help keep Mount Olive beautiful!
Softball has Begun
Games for the church softball team began last week! Interested players, high school aged and up, may still sign up in the Gathering Area. The one hour long co-ed games continue on Tuesday evenings at McQuillan field through early August. Game times vary and are listed on the church calendar. It is a fun, family friendly atmosphere and spectators are encouraged to attend! Contact Jason Sinnwell for more information,sinnweja@gmail.com
60th Anniversary Kickoff is June 23
The 60th Anniversary celebration of Mount Olive has begun! Our Kick-Off Event will be held Sunday, June 23, following the outdoor 9:30 service. Plans are to have a potluck lunch, games and prizes for kids, and lots of fun. Our hope is to have quarterly events this year and next as we move towards our actual 60th anniversary in March 2021. Planning help is still needed, contact Pastor Glenn Monson if you are interested.
Visitors Expected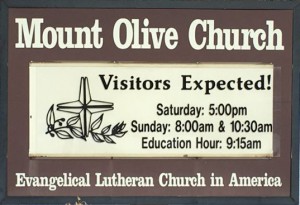 The sign outside of Mount Olive says, "Visitors Expected!" We mean this. We expect you, which means we are prepared to greet you and welcome you, no matter who you are. Our facility is completely accessible to all. Our welcome statement says it best:We trust that God calls Mount Olive Lutheran Church to a ministry of reconciliation. We embrace as a gift the diversity of our neighborhood and the world, and we extend God's hospitality by welcoming, hearing, and treasuring:
All gender identities and sexual orientations
All races and ethnicities
All ages and abilities
All economic statuses and education levels
All faith journeys and personal histories
We are also an unapologetically Lutheran community of faith. This means:
Our theology is centered in the life and death of Jesus Christ.
We are part of a long line of historic churches which celebrate infant baptism and weekly Holy Communion.
The Word of God is the norm and basis for our life together.
We are also part of one particular group of Lutherans – the Evangelical Lutheran Church in America. Through this group we are networked with thousands of other congregations, mission sites, social service agencies, and educational institutions that live out the faith of Jesus Christ in similar ways.
We would love to have you join us for worship on a weekend. Our communion table is open to all as God draws you. Please come. If you like, you may even want to stay for coffee, introduce yourself, and strike up a conversation.
We believe Christ calls each person to some kind of ministry. We also believe that our lives are enriched when we do ministry together. You are welcome to explore your calling in this community of God's people.