Oct. 17 & 18 Worship Bulletin
Weekly Devotions
You may access past devotions by clicking here
Music and Money Parking Lot Event-Cancelled
In looking at the predicted weather forecast for this coming Sunday, October 18, the decision has been made to cancel the Music and Money parking lot event scheduled for 11:00 am. You are encouraged to drop your pledge card in the church drop-box, the front doors are open Monday through Friday from 8:00 am to 5:00 pm. If it is more convenient, you may mail your pledge cards to the church.
We still plan to have Reformation Sunday worship with Holy Communion in the parking lot on Sunday, October 25 at 11:00 am. Online services will be available as usual both weekends. Stay tuned for continued updates. Please call the church office at 288-1580 if you have any questions. Thank you.
Olive Branch Hosted Event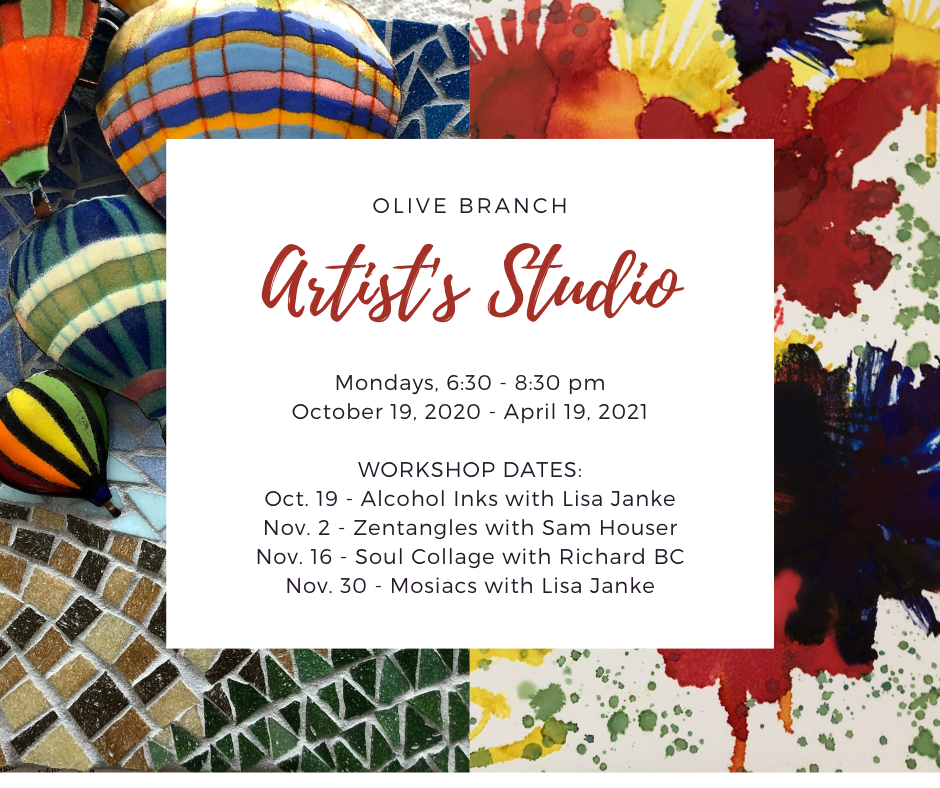 Open Studio
We have a consecrated space for you to be this winter.
It's a real-life place in what we call our "Fellowship Hall" to learn new creative things and practice them, to experiment, to fall flat on your face, to laugh, to lament and to discover new joy. Creative expression is one of the ways we can let all the pandemic and other life emotions be felt – and set free.
Sometimes, we will have artists lead workshops on different mediums and techniques. Otherwise, show up for open studio time to work on whatever you'd like in the company of other lovely, gifted, struggling, amazing people like you.
We practice careful social distancing with masks.
Register to claim your space.
Limit: 10 persons.
Mondays, 6:30 – 8:30 pm
October 19, 2020 – April 19, 2021
Workshop Dates (clicking on date will take you to Eventbrite to sign up)
November 2 – Zentangles with Sam Houser
November 16 – Soul Collage with Richard BC
November 30 – Mosaics with Lisa Janke
Mount Olive's Welcome Statement
"We trust that God calls Mount Olive Lutheran Church to a ministry of reconciliation. We embrace as a gift the diversity of our neighborhood and the world, and we extend God's hospitality by welcoming, hearing, and treasuring:
All gender identities and sexual orientations
All races and ethnicities
All ages and abilities
All economic statuses and education levels
All faith journeys and personal histories
As Christ welcomes all, we too welcome the full inclusion of all people into the life, ministry, and sacraments of Mount Olive, joining in a journey toward greater love, understanding, and mutual respect."
We are also an unapologetically Lutheran community of faith. This means:
Our theology is centered in the life and death of Jesus Christ.
We are part of a long line of historic churches which celebrate infant baptism and weekly Holy Communion.
The Word of God is the norm and basis for our life together.
We are also part of one particular group of Lutherans – the Evangelical Lutheran Church in America. Through this group we are networked with thousands of other congregations, mission sites, social service agencies, and educational institutions that live out the faith of Jesus Christ in similar ways.
We believe Christ calls each person to some kind of ministry. We also believe that our lives are enriched when we do ministry together. You are welcome to explore your calling in this community of God's people.