Thanksgiving Eve Worship and Pie
Do you want to enrich your Thanksgiving Day celebration? Come to the Service of Music and Scripture at Mount Olive on Thanksgiving Eve, this Wednesday, November 22 at 7:00 pm. Join musicians and readers of all ages as we acknowledge God's goodness, give thanks for God's abundance, and are inspired to grateful service. All worshippers are asked to bring an offering of non-perishable food, or a money gift for our hunger ministries. Finally, so that we don't go away hungry pie will be served following worship. Guests are especially welcomed. Please sign up to bring a pie or help with serving in the Gathering Area.
Visitors Expected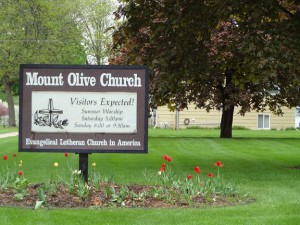 The sign outside of Mount Olive says, "Visitors Expected!" We mean this. We expect YOU, whether you are a new resident to Rochester, or you've been here for years, or you are just visiting. We have a completely accessible facility for physically-challenged folks. We are open and welcoming to people of all creeds, beliefs, ethnicities, and sexual orientations. We believe that God has called us to this ministry of hospitality and we welcome guests every weekend. Consider yourself invited.
We are also an unapologetically Lutheran community of faith. This means that our theology is centered in the life and death of Jesus Christ. This means that we are part of a long line of historic churches who celebrate infant baptism and weekly Holy Communion. This means that the Word of God is the norm and basis for our life together. We are also a part of one particular group of Lutherans – the Evangelical Lutheran Church in America, and through this group we are networked with thousands of other congregations, mission sites, social service agencies, and educational institutions that live out the faith of Jesus Christ in similar ways.
We would love to have you join us for worship on a weekend. Our communion table is open to all as God draws you. Please come and introduce yourself, stay for coffee and fellowship afterwards, and get to know us better. We believe Christ calls each person, of every age and situation, to some kind of ministry. We also believe that our lives are enriched when we do ministry together. YOU are welcome to explore YOUR calling in this community of God's people.