Dining for the Dining Hall, November 1
60th Anniversary Event #3
On Friday, Nov. 1, the Fellowship Hall of Mount Olive will be filled with guests, all enjoying a wonderful Swedish Meatball Supper, prepared by us to raise funds for the Hull High School Dining Hall in Kijota, Tanzania. This is an "all hands on deck!" event, with 125 volunteers needed to pull this off. See Jane Sheffield at the sign-up table in the Gathering Area to find out where you can serve. Everyone, young and old, can serve at this event. Help will be needed leading up to the event, the day of and during the dinner, and there are even things that can be done at home such as baking items for the dessert trays or the bake sale that will be offered in conjunction with the dinner. Please sign up at this link: Dining for the Dining Hall.
Visitors Expected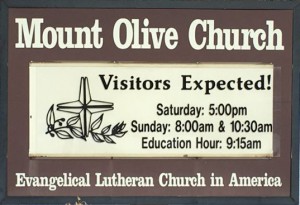 The sign outside of Mount Olive says, "Visitors Expected!" We mean this. We expect you, which means we are prepared to greet you and welcome you, no matter who you are. Our facility is completely accessible to all. Our welcome statement says it best:We trust that God calls Mount Olive Lutheran Church to a ministry of reconciliation. We embrace as a gift the diversity of our neighborhood and the world, and we extend God's hospitality by welcoming, hearing, and treasuring:
All gender identities and sexual orientations
All races and ethnicities
All ages and abilities
All economic statuses and education levels
All faith journeys and personal histories
We are also an unapologetically Lutheran community of faith. This means:
Our theology is centered in the life and death of Jesus Christ.
We are part of a long line of historic churches which celebrate infant baptism and weekly Holy Communion.
The Word of God is the norm and basis for our life together.
We are also part of one particular group of Lutherans – the Evangelical Lutheran Church in America. Through this group we are networked with thousands of other congregations, mission sites, social service agencies, and educational institutions that live out the faith of Jesus Christ in similar ways.
We would love to have you join us for worship on a weekend. Our communion table is open to all as God draws you. Please come. If you like, you may even want to stay for coffee, introduce yourself, and strike up a conversation.
We believe Christ calls each person to some kind of ministry. We also believe that our lives are enriched when we do ministry together. You are welcome to explore your calling in this community of God's people.