Visitors Expected!
The sign outside of Mount Olive says, "Visitors Expected!" We mean this. We expect YOU, whether you are a new resident to Rochester, or you've been here for years, or you are just visiting. We have a completely accessible facility for physically-challenged folks. We are open and welcoming to people of all creeds, beliefs, ethnicities, and sexual orientations. We believe that God has called us to this ministry of hospitality and we welcome guests every weekend. Consider yourself invited.
We are also an unapologetically Lutheran community of faith. This means that our theology is centered in the life and death of Jesus Christ. This means that we are part of a long line of historic churches who celebrate infant baptism and weekly Holy Communion. This means that the Word of God is the norm and basis for our life together. We are also a part of one particular group of Lutherans – the Evangelical Lutheran Church in America, and through this group we are networked with thousands of other congregations, mission sites, social service agencies, and educational institutions that live out the faith of Jesus Christ in similar ways.
We would love to have you join us for worship on a weekend. Our communion table is open to all as God draws you. Please come and introduce yourself, stay for coffee and fellowship afterwards, and get to know us better. We believe Christ calls each person, of every age and situation, to some kind of ministry. We also believe that our lives are enriched when we do ministry together. YOU are welcome to explore YOUR calling in this community of God's people.
---
Greetings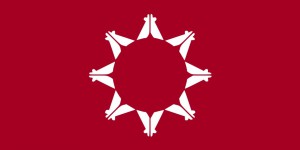 … from the Pine Ridge Reservation in western South Dakota! I'm here with 11 other Mount Olivers and three guides from Lutherans Outdoors, and we are learning much about life.
In the Pine Ridge community, there is a strong sense of togetherness that supersedes the usual boundaries. A distinct hopefulness is rising here, and many are working together to build something new and strong and good in the wake of brutal and severe poverty following some of the most egregious human rights violations in our country's history.
Curtis and Katie Cline, the Lutheran Missionaries in Colombia who visited Mount Olive in July, helped teach us that as people of God, we are called to accompany one another to work for justice and peace in the world. As guests here among the Oglala Lakota Nation, this is an important way for us to approach our relationships. The people here have an incredible vision of a new reality for themselves, which is being enacted in many ways, and it is a privilege to be invited to witness such a hopeful move.
Pastor Paul
---
South Dakota Travelers Return

Our intergenerational group of twelve who traveled to the Pine Ridge Reservation are back.
Check out this video collage of photos from the experience:
animoto.com/play/nRa0cb2gD47DHPYf2aqGew
---
Smile! Say Cheese! (Photo Directory Coming Soon)
We are happy to announce that we have signed a contract with Lifetouch Directories and Portraits to have a new edition of the Mount Olive picture directory produced this fall. We have reserved two separate weeks during which a Lifetouch photographer and staff person will be on hand to serve you. Please think now about which day will work for you and sign up today! The weeks are October 5-8, and October 18-22. As usual, for having your picture taken you will receive a free 8×10 and a copy of the church directory once it is published. You will also have the option of purchasing additional poses and prints. Watch for more details here and visit the table at church beginning August 27th. We hope to have everyone's participation for this new directory.
---